On March 29, 2023, the thirteenth annual 8th Grade Poetry Slam took place at Tri-Valley Central School. Forty-seven 8th grade students took to the stage to compete in the event. The evening event was watched by a crowd made up of parents, students, teachers, staff, and administrators.
A large part of a Poetry Slam is the performance aspect and the students certainly didn't disappoint. Each student, or group of students, memorized an originally written poem and then delivered the poem with their best sense of emotion and theatrics. The audience showed their appreciation by responding to several of the poems with applause and laughter. But perhaps the best part of the night was witnessing the kids come together as one to support and encourage each other throughout the event.
Hiram Roman was crowned 2023 Poetry Slam champion for his poem "What Shaped Me." Aaron Edwards and Chris Prousalis were the runners-up with their poem "Who Am I?" Juliana Adams and Rebecca Squires finished in third place with their poem "Pretty." Finally, Ally Chevalier and Anna Furman and their poem "What Makes You Stand?" and Janiel Prado and his poem "Pets" shared the Performance Award.
The event was hosted by 9th grade students Lucas Campos and Antonio Walsh, last year's Performance Award winners. Ms. Sondra Lee—Tri-Valley staff member—served as the event's guest poet. She performed her poem titled "Respect."
Judges for the Poetry Slam included 2022 Poetry Slam 3rd Place finisher, Logan Weyant; 2022 Poetry Slam 2nd Place finishers, Jordan Dymond and Emily Lucak; 2022 Poetry Slam Champion Natalie Moore; 2021 Poetry Slam Champion Jenna Carmody; 2020 Poetry Slam Champion Lily Siciliano; 2019 Poetry Slam Champion Anna Streimer; and 2011 Poetry Slam Champion Bridget Glinski.
The Tri-Valley Annual Poetry Slam was organized by 8th grade ELA teacher Matt Haynes, 8th grade ELA teacher Danielle Mobijohn, and 8th grade special education teacher Deb Swett.
Overall, the event was a huge success and it couldn't have brought more pride to all of those involved. Congratulations again to all of the participating 8th graders—hopefully it's something they won't soon forget!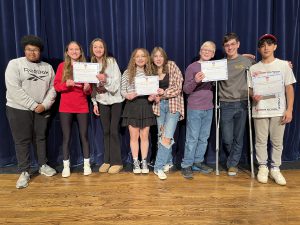 Picture Caption 1 (from left to right): Janiel Prado (Performance Award); Anna Furman (Performance Award); Ally Chevalier (Performance Award); Juliana Adams (3rd Place); Rebecca Squires (3rd Place); Chris Prousalis (2nd Place); Aaron Edwards (2nd Place); Hiram Roman (2023 Champion)