WORK-BASED LEARNING (WBL) is a proactive approach to bridging the gap between high school and high-demand, high-skill careers. WBL activities begin by helping students develop a broad understanding and awareness of industries and possible careers that are available to them. Examples include: career speakers and workplace tours. Over time these experiences narrow in focus as students find a good fit, learn what post-secondary education is necessary for success, and practice the technical and soft skills to enter those careers later in life. Examples of more focused experiences include: internships and apprenticeships.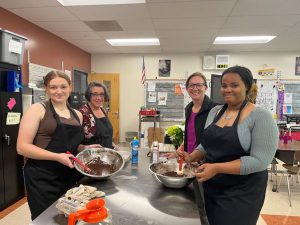 Pictured above are students at work in the Barista Bears Café. 
Tri-Valley is piloting a new program, Tri-Valley Career Readiness Program, where students will earn the Career Development & Occupational Studies Commencement credential upon successful completion. In addition to completing a class that prepares students for their career, they learn cover letter & resume writing, interview skills, soft skills, and career skills needed to be successful in life. In addition, students will complete a career portfolio and employability profile to use after graduation. Currently, we have students enrolled who are interested in engineering, psychology, criminal justice, computer science, and many more! Another opportunity, usually for younger students is our student-based enterprise: The Barista Bears Café. Here students plan, prepare, and serve a variety of goods to staff. This is also a privilege for the senior class and National Honor Society members to frequent the café.
If a company or business is interested in partnering with our program- as a guest speaker, work site tour opportunity, job shadowing opportunity, or internship opportunity, they can contact the Work Based Learning Coordinator at 845-985-2296.